Tweet
Stealthy signal to Gates
Made In China by CHOW HOW BAN
It may or may not have been orchestrated but the fact was that news leaks of a Chinese-developed stealth fighter jets appeared just days before the Asian giant and the United States were to patch up a military spat.

CHINA'S stealth fighter jet stuns the world! So yells a newspaper seller to commuters on board a subway train in Beijing. Several men nearby snapped up the last few papers from the vendor and read the news with great interest.

China has many young and middle-aged military fanatics like these commuters, who can't resist reading about their very own state-of-the-art jet.

The J-20 stealth jet, a fourth-generation fighter aircraft built by the Chengdu Aircraft Design Institute, underwent ground tests at the institute's airfield on Jan 5.

A Chinese military fan leaked images and a video, which he captured of the test run, on the Internet. The video also showed him and his friends celebrating the historic moment.

The images and video created a buzz in Chinese cyberspace and media, with the entire nation brimming with pride.

The foreign press especially, those from the United States, were alarmed that they might have underestimated Chinese military might and advancement in warfare technologies.

Coincidentally, the photos and videos of the J-20 jet surfaced four days before US Secretary of Defence Robert Gates arrived in Beijing for an official visit to patch up strained military ties between the United States and China.

Before leaving for China, Gates told reporters that some of China's advances could eventually undermine traditional US military capabilities in the Pacific region.

"They clearly have the potential to put some of our capabilities at risk and we have to pay attention to them. We have to respond appropriately with our own programmes," wire services quoted him as saying.

Former US Air Force Lt Gen Thomas Mclnerney commented on Foxnews.com that the Chinese had deliberately and very cleverly leaked their stealth fighter in time for Gates' visit.

"This is another move by the Chinese to subtly send the current American administration as well as its Asian allies a signal that it is investing heavily in military capabilities that will dominate Asia in future," he said.

Mclnerney said that discussions between the United States and China during Gates' visit and that of Chinese President Hu Jintao to Washington from Jan 18 to Jan 21, would reveal that China's vision of its future position in Asia was different from what the United States and its allies imagined.

Gates, who concluded his China trip on Wednesday, was told by his Chinese counterparts that China was indeed testing its stealth jet, but still lagged far behind the world's most advanced armed forces in military technology.

A week after the news leaks, Chinese Defence Ministry Foreign Affairs Office deputy director Guan Youfei confirmed the test flight of the J-20 fighter jet, believed to be capable of matching the United States' F-22 jet.

"The development of China's military hardware is not aimed at any country or any specific target, and the timing for the test flight was a matter of routine working arrangements," he told Xinhua agency.

He denied that the test flight was deliberately carried out to coincide with Gates' visit.

After the talks, both the United States and China agreed to reduce any miscommunication and misunderstanding and to rebuild their relationship in the spirit of respect, mutual trust, equality and reciprocity. However, this is easier said than done in view of the complicated Sino-US relations.

China suspended ties with the US military last year and turned down an earlier visit by Gates last summer following US President Barack Obama administration's decision in 2009 to sell US$6.4bil (RM19.53bil) worth arms to Taiwan, which is viewed by China as a renegade province.

China has also denounced US pressure on South-East Asian countries to solve territorial disputes in the South China Sea. It fears China's anti-ship ballistic missiles could challenge its fleets.

The latest addition of the J-20 stealth jet had Chinese military fans excited. More fans went down to the southwest city of Chengdu to catch the jet's maiden test flight on Tuesday.

"11.1.11 is a historic day and I will remember today!" a netizen said on a military fan forum. Another fan said that he could not help but watch the video of the maiden flight over and over again.

Another fan, Gao Long, said: "I cried after watching a documentary on China's air force development. We have come a long way from the day we bought the MiG-15 jet. We have developed our fourth generation jet."

Many fans said China was not hoping to go to war but would not be afraid to fight one if it came.

In an editorial, Global Times said although it might take a few more years for the prototype stealth aircraft to be ready for deployment, the invention would be a positive step in propelling China into the club of stealth jet owning nations.

"The development of the stealth jet may have surpassed the expectations of many but this will not be the biggest surprise in China's pursuit to narrow the gap with Western powers. We hope there will be more surprises to come," it said.

The newspaper said the United States should not panic nor consider China as a threat as a couple of weapons would not change the world.

"China has no intention to vie for hegemony. What China needs is more job opportunities and cheaper housing. The J-20 is just to create a secure environment for China so it can devote its wisdom and energy to solving domestic problems," it added.

"The Chinese also need to keep a level head as a single fighter jet cannot protect their security interests. China should learn to win its neighbours' hearts and make friends with all nations."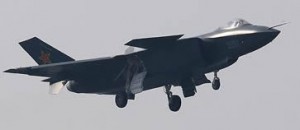 China's first stealth fighter J-20, has reportedly made its first test flight, according to Chinese Reports. It was reported that China's Stealth Fighter, J-20 made a 15-minute flight from 12:50 to 13:05 hrs in southwest China's Chengdu city.
China has carried out the test flight of its advanced laser-evading stealth fighter J-20, according to media reports, perfectly timing the event to coincide with the visit of U.S Defense Secretary Robert Gates to the country.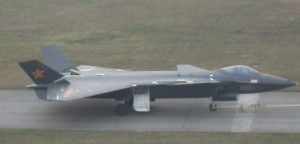 Aviation buffs are buzzing over blurry photographs that have been surfacing on Chinese military websites showing Beijing's first stealth fighter jet, the Chengdu J-20 fighter. Chinese aviation fans say they have been snapping pics of the jet during recent taxi tests, with a first flight likely still weeks away.We have also managed to get the first video of this stealthy aircraft the 'J-20′.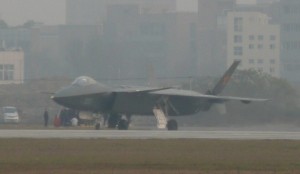 China recently showed the world its latest fighter aircraft in a typical Chinese way with the Govt media denying it but allowing Chinese hobbyist to upload images of the aircraft on the internet. According to latest reports the aircraft is carrying high speed taxi run and is expected to take to the skies anytime. A Chinese stealth aircraft will definitely change the balance in the region in favor to an extent in favor of China. Before we can analyze the implications we first need to analyze the aircraft.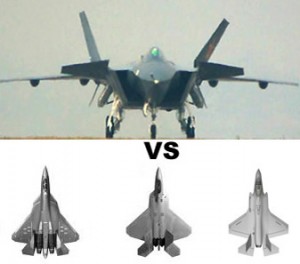 We have witnessed a lot about the
Chinese Stealth fighter J-20
, being developed by the Chinese Aircraft manufacturer Chengdu. The J-20 is a
Fifth generation aircraft
with stealth capabilities. Only time will tell if the J-20 will match the current stealth aircrafts or will be superior than them. The F-22 Raptor has proven technology and hence it has been speculated that most of the 5th generation aircrafts today are similar to the Raptor.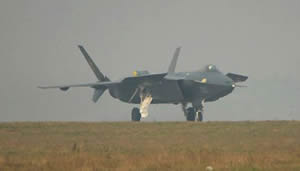 The latest buzz on Internet is that the China's Chengdu Aircraft Industry Group is preparing to test its first stealth aircraft known to world as the
J-XX
and now official J-20.
According to enthusiasts living nearby, the aircraft has already done taxi run and top level officials are coming to the facility to witness the first flight. This comes as a surprise as both American and Russian think tanks had written off China. J-XX is Chinese competitor in the Fifth Generation race.
READ MORE..